Looking for the best Jack Reed quotes? You've come to the right place.
Senator Jack Francis Reed is an American politician and lawyer. He has been serving as the senior United States Senator from Rhode Island since 1996. He was formerly a member of the U.S. House of Representatives from 1991 to 1997. He is also the dean of the state's congressional delegation.
Reed was born in Providence, Rhode Island, on November 12, 1949. Reed graduated from the U.S. Military Academy in West Point in 1971. 
After his Bachelor's degree, Reed served and earned the Ranger Tab in the military service. He also served as a paratrooper. While in the military, Reed received a Master's degree in Public Policy from Harvard in 1973.
After Harvard, he returned to West Point to teach Economics and International Relations from 1977 to 1979. He also worked as an associate professor in the Department of Social Sciences. 
Reed left active service with the rank of captain in 1979 but remained in the Army Reserve till 1991, when he retired as a Major.
He served in the United States House of Representatives from Rhode Island's 2nd congressional district from 1991 to 1997.
There, he specialized in banking and securities law for a private law firm till 1990.
Reed started his political career shortly after moving back to Rhode Island. He won an election to the state senate in 1984. He served three terms till 1990.
In 1996, longstanding incumbent Senator Claiborne Pell announced his retirement from the Senate. Reed announced his candidacy and won the Democratic primary. 
He also defeated Republican nominee Nancy Mayer with 63% of the votes. He was re-elected in 2002, 2008, 2014, and 2020.
Reed was a key figure in supporting bills and reforms to ensure the safety and improvement of lives during the COVID-19 pandemic. He drafted the coronavirus Aid, Relief, and Economic Security Act. 
The Act successfully creates a $150 billion Relief Fund during the pandemic. He also helps secure $1.25 billion for his state to fight the pandemic.
Reeds fostered the usage of federal funding to improve the economy. He directed the funds towards job creation and economic support for businesses. He also worked towards infrastructural development in the state.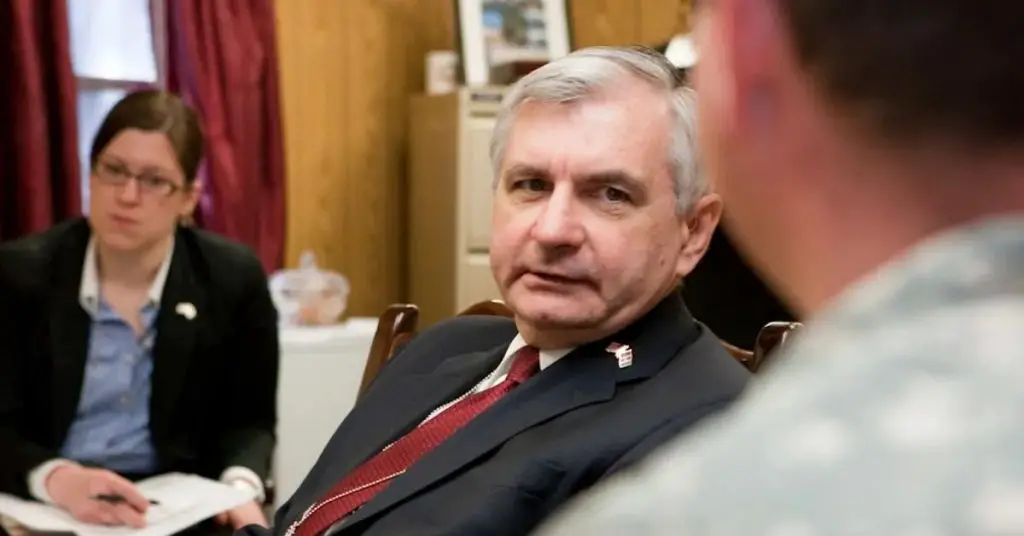 Reed supported projects to enhance the quality of water. He also authored bills and laws to improve access to quality healthcare. He introduced Acts to advance research in health issues. He also worked to improve cancer surveillance.
As part of his bid to improve the state's infrastructure, Reed led the effort to strengthen the transportation network. He expanded runways and increased port capacity to foster economic linkage and development.
Reed's administration also fostered protecting consumers and cut taxes. He has also made efforts to improve both the state and national security and defense. He is also a key figure in formulating trade and foreign policies.
You can find out more about the senator here.
Here's our collection of the Jack Reed Famous Quotes:
Jack Reed Quotes on Politics/Trump/Democracy/Policies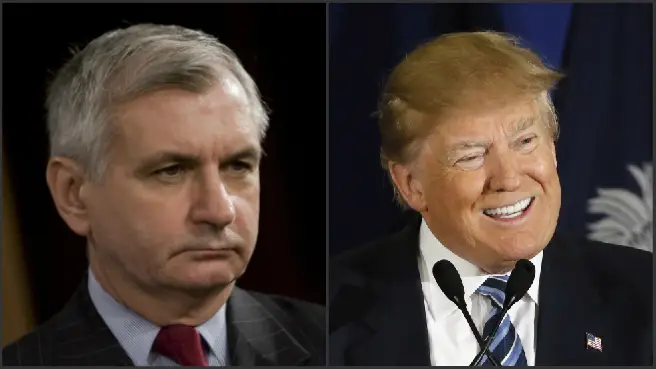 Americans cannot afford to turn a blind eye to Russian interference in our democracy. We need to get to the facts and learn lessons to prevent future misconduct by foreign governments.

Jack Reed
If we don't have accurate information, if we are not able to tell difficult truths one to another, we will never be able to effectively design a policy for Iraq.

Jack Reed
I am extremely privileged to serve Rhode Island in the United States Senate, and that is my only goal and aspiration.

Jack Reed
President Trump has a serious credibility problem. He tries to take credit for jobs he didn't create and, with respect to the F-35 program, savings that were achieved before he even took office.

Jack Reed
If we don't have accurate information, if we are not able to tell difficult truths one to another, we will never be able to effectively design a policy for Iraq.

Jack Reed
He(Bush) must be candid and honest about the current situation, what is at stake, what it will take to succeed, how long the mission will last and what it will cost.

Jack Reed
What you see on TV is the more prominent aspect of what we're doing. But there's a lot of work with my colleagues in trying to come up with a policy direction the Democrats can unite behind.

Jack Reed
Jack Reed Quotes on Tax/Economy/Social Security
Hedge funds, private equity and venture capital funds have played an important role in providing liquidity to our financial system and improving the efficiency of capital markets. But as their role has grown, so have the risks they pose.

Jack Reed
Improving oversight of hedge funds and other private funds is vital to their sustainability and to our economy's stability.

Jack Reed
The financial crisis is a stark reminder that transparency and disclosure are essential in today's marketplace.

Jack Reed
The President has no real plan to address the fiscal challenges arising from the retirement of the baby boom generation, let alone a plan to fix Social Security.

Jack Reed
The administration is manufacturing a crisis that does not exist in order to dismantle Social Security.

Jack Reed
Today's Census reports confirm that the Bush administration's economic policies have not benefited most working families.

Jack Reed
Jack Reed Quotes on Health/Environment
Dr. Alexander-Scott served the people of Rhode Island well. Her dedication, expertise, and tireless work during COVID-19 pandemic were of incredible benefit to all RIers. We thank her for her service. She has my enduring gratitude and admiration.

Jack Reed
Our hearts are with our friends in south and central states who've been impacted by these deadly tornadoes & extreme weather. Devastation is staggering. Federal gov't is helping with emergency response & we will be there to help rebuild & recover.

Jack Reed
Parents know COVID has stressed them, students, and educators. The EDUCATORS for America Act delivers short-term & long-term solutions. It will help improve schools & build a strong educator pipeline to better recruit, train, support & retain effective teachers & educators.

Jack Reed
Jack Reed Quotes on Security/Terrorism
We strongly believe that providing these units access to uniform pay, full federal benefits and federal protections affords the federal government the best opportunity to fully support the military personnel involved in these operations.

Jack Reed
We're in danger of breaking our army and preventing our national leaders from having the flexibility to confront not just Iraq and Afghanistan, but crises around the globe.

Jack Reed
We can best honor the memories of those who were killed on September 11 and those who have been killed fighting the war on terrorism, by dedicating ourselves to building a free and peaceful world safe from the threat of terrorism.

Jack Reed
Having committed ourselves to Iraq, we must prevail, and to prevail, we must fund all of the requirements for our military. We must do it adequately and promptly, and the administration is doing neither.

Jack Reed
We are today, in this country, convulsed by the situation in Iraq. It is an extraordinary crisis. It is taxing our men and women in uniform, and it is certainly taxing our resolve.

Jack Reed
The best reduction, the most final reduction, is to destroy the warheads.

Jack Reed
The one thing that the president continues to diminish, which I think is unfortunate, is the fact that the Russian government, at the highest level, deliberately interfered with our election in 2016, and according to all of our experts in the intelligence community, they are coming back with more force in 2018 and 2020.

Jack Reed
On a daily basis, we are seeing not just attacks against coalition forces and security forces of Iraq, we are seeing a situation in many places which is beyond chaotic to the point where the Iraqi people are quickly beginning to assume that we not only are occupying but we are inept occupiers.

Jack Reed
My fear is that there's pressure in the United States that is forcing us to re-evaluate our position rather than what's happening on the ground in Iraq.

Jack Reed
One of the lessons of 9/11 is that you can't assume we are invulnerable, … There is still a very serious threat that these terrorist groups are going to get access to nuclear devices.

Jack Reed
We ask these young men and women to sacrifice themselves, to give their lives, … I believe it's part of that leadership of that department that the secretary of defense would personally write these letters, personally sign them at least.

Jack Reed
Jack Reed Quotes on Rights/Justice/Constitution
He has not convinced me that he will not uphold just the letter of the Constitution, but the spirit of the Constitution as well.

Jack Reed
He's a very capable individual, but I'm not confident, based on what he's said and written before, that he can really fulfill the spirit of the Constitution.

Jack Reed
Unfortunately, GOP-backed voter suppression is rampant in many states. While Senate Republicans blocked federal voting rights protections, the struggle for democracy continues. We will keep working to safeguard ballot access & ensure election integrity for ALL American voters.

Jack Reed
Dr. King fought for our future – yours & mine. His vision for equal rights & a more just society changed history & the world. Today, we are called upon to do our part to prevent voter suppression. The U.S. The Senate must act to protect voting rights & freedom for all!

Jack Reed
The Jan 6 assault on the US Capitol was an attack on democracy itself. Best way to defend the U.S. against forces seeking to undermine our right to free, fair self-gov't is to transparently pursue the facts, ensure accountability, & uphold Constitutional principles that unite us all.

Jack Reed
Other Jack Reed Quotes
Having grown up as a young Army officer in the Vietnam era, I had an instinctual notion that you have to look very carefully and weigh very carefully what anyone says.

Jack Reed
It's not wrong to be skeptical. I was one who participated in the debate on Iraq and voted against the resolution because I was skeptical of the intelligence. But that was based on looking at the facts, analyzing the case in as rational and as logical a way as you can, not simply concluding or dismissing facts.

Jack Reed
We're in danger of breaking our army and preventing our national leaders from having the flexibility to confront not just Iraq and Afghanistan, but crises around the globe.

Jack Reed
There is sometimes a tendency to assume that everyone in this great country has adequate housing. But when you go to certain places, certain neighborhoods, both urban and rural, you find out that's not the case, and I think we have to do much more.

Jack Reed
To disregard the obvious is not a good trait in a leader in any situation.

Jack Reed
Seventy-two hours without regular sleep, sensory deprivation — which would be a bag over your head for 72 hours — do you think that's humane?

Jack Reed
We have real questions about the size of our forces, whether an international division will be provided, what efforts are being made to engage multinational support politically, diplomatically, and militarily, … Those questions remain.

Jack Reed
Mr. Secretary, you're dissembling, non-responsive, … Anybody would say putting a bag over someone's head for 72 hours — which is sensory deprivation.

Jack Reed
It is an opportunity for us to build on that with responsible reforms such as the elimination of soft money. So we've been given a chance. I just hope we take that chance on the behalf of the American people.

Jack Reed
Summary
I hope you have enjoyed our collection of some of the best Jack Reed quotes! 
Don't forget to share them on social media with your friends and family.
As a reminder, you can contact the senator here.
Stay Strong!
---
Similar Content