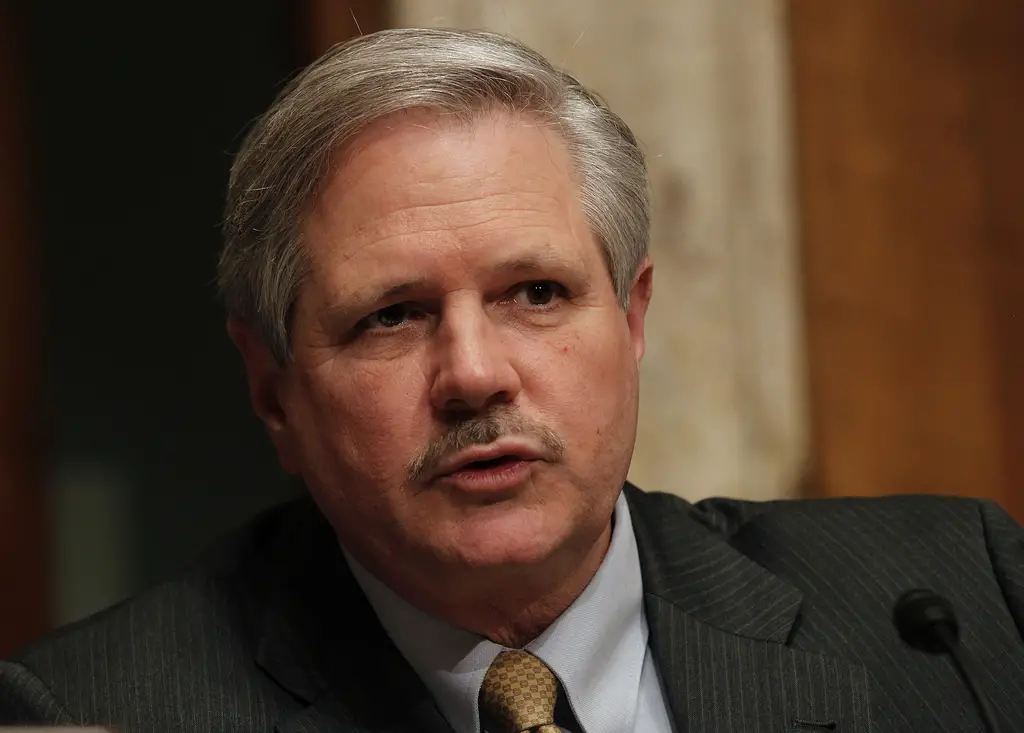 (An Open Letter to US Senator John Hoeven on SCOTUS Vacancy. Source: Ndxplains)
Senator John Henry Hoeven III is an American banker and politician. He is serving as a senior U.S. senator from North Dakota under the Republicans since 2011. He served as the 31st governor of North Dakota from 2000 to 2010. He is also the dean of North Dakota's congressional delegation.
He had served on many civic, community, and economic development groups. 
Hoeven was born on March 13, 1957, in Bismarck, North Dakota. His father, John Henry Hoeven, owned a bank in Minot where he worked as the president and chairman.
Hoeven attended Dartmouth College, where he obtained a Bachelor's degree in 1979. In 1981, he obtained a Master's degree in Business Administration from Northwestern University.
After his Master's degree, Hoeven returned to North Dakota to pursue a career in banking. He subsequently managed the trust department of the First Western Bank. He became its vice president in 1986. Seven years later, he became the Bank of North Dakota's President and CEO till 2000.
Senator John Hoeven Career
Hoeven started his political career as a member of the Democratic-NPL Party. But, he became an active member of the Republican party as a district chair and volunteer.
He became the Republican candidate for the governorship position in North Dakota. In 2000, he defeated Democratic nominee Heidi to assume the position. He was elected again in 2004 and 2008.
Following ten years of service as the state's governor, Hoeven announced his candidacy for a seat at the U.S. Senate in 2010. Yet, he defeated Democratic-NPL Tracy Potter. John Hoeven was sworn in on January 5, 2011, as North Dakota's 22nd U.S. Senator. He was re-elected in 2016.
Senator John Hoeven Accomplishments
(Senator John Hoeven on the 2018 Farm Bill. Source: C-span.org)
As a senator, one of Hoeven's priorities in the Senate is working to create a national energy system. He worked to create a system like North Dakota's Empower North Dakota. It aimed to encourage the development of both traditional and renewable resources.
Hoeven played a crucial role in crafting and passing a long-term farm bill that gives the nation's producers the confidence they need to plan for the future. He also worked on new tools to manage risk with enhanced crop insurance. He continues to work to ensure the timely and beneficial implementation of the farm bill.
Under his administration, the state widened, shaped its economy, and earned thousands of new jobs. North Dakota's wages and personal income at present continue to grow faster. The state has also dominated the nation in export growth. 
As governor, Hoeven was focused on evolving North Dakota's large energy resources. The state is an energy powerhouse and one of the U.S.'s largest energy-producing states.
Senator John Hoeven Criticisms
Not long after he was elected as a senator, Hoeven faced many trust trials. He was accused of the fallen economy, endless war, and loss of political liberties, which resulted in the betrayal of trust and confidence of the people of North Dakota.
Senator Hoeven was also accused of failing to take care of infrastructural projects. Democratic candidate Eliot Glassheim uncovered the neglected infrastructures. But, he called out Senators in charge, of which Hoeven was part of them.
Senator John Hoeven Net Worth
(North Dakota Senator John Hoeven Among 50 Richest Members Of Congress Again. Source: Sayanythingblog)
According to Incomepedia, Senator John Hoeven net worth is estimated at about $46 million. 
Final Thoughts
Senator Hoeven has championed improving the energy system in the state and nationwide. He has also made legislative achievements in improving his state's economy. He has focused on turning the state into the nation's powerhouse.
Yet, he has faced many trust trials. He has also allegedly abandoned infrastructural projects in his state. Yet, none affected his career.
Reference
---
Related Content: 
Similar Content
---