Looking for the best Jeanne Shaheen quotes? You've come to the right place.
Cynthia Jeanne Shaheen is a retired educator and American politician serving as the senior United States senator from New Hampshire since 2009. 
A member of the Democratic Party, she is the first female U.S. senator in New Hampshire's history, the first female elected governor of New Hampshire and the first woman elected as both a governor and a U.S. senator.
She served as Director of the Harvard Institute of Politics before resigning to run for the U.S. Senate again in the 2008 election, defeating Sununu in a rematch.
She is a senior U.S. Senator from New Hampshire under the Democrats since 2009. She had also served at the state senate before becoming New Hampshire's governor. 
Senator Jeanne Shaheen was born in St. Charles in Missouri on January 28, 1947. She was born to a low-class family of a shoemaker dad and a mom working as a church secretary. 
She earned her B.A. degree in Political Science from Shippensburg University in 1969. 
Senator Jeanne Shaheen enrolled at the University of Mississippi, where she taught high school as a student. After her Master's degree in 1973, she moved to New Hampshire. There, she started teaching while supporting her husband's jewelry business.
Shaheen started her political career in 1976 when she worked on several campaigns. During the year, she worked for Jimmy Carter's presidential campaign. She also worked as Gary Hart's campaign manager in 1984. 
In 1990, Senator Jeanne Shaheen contested for a seat at the state senate and won for the 21st District. She served till 1996, when she left office to run for the governorship position of the state. 
She became the governor of New Hampshire in 1996, the first female governor of the state. She was re-elected in 1998 and 2000.
After leaving the governorship position, Shaheen ran for the U.S. Senate seat. But, Republican nominee John Sununu defeated her. She worked for John Kerry as the national chair of his presidential campaign. 
She became the Institute of Politics director at the Kennedy School of Government from 2005 to 2007. 
In 2007, Shaheen relaunched her bid for the U.S. Senate seat again. This time, she defeated Republican John Sununu and took office the following year. She won again in 2014 and 2020. 
Shaheen has introduced and supported reforms in several sectors, all in the service of her people. 
To promote access to quality healthcare, Shaheen supported the Affordable Care Act. As a strong advocate of the ACA, she has also defended it from attacks and repeals. She continues to be a strong advocate for healthcare reforms. 
She also bolsters strong foreign policy to promote national security and strengthen alliances. She has also worked in protecting U.S. democratic institutions from foreign intrusions. 
Her administration also fostered promoting human and women's rights. She worked to broaden the Violence Against Women Act. The Act aimed to investigate and reduce violent crimes against women. 
Shaheen has also introduced legislation to reform budgets and unreasonable spending. She also led the effort to cut exorbitant subsidies and reduction of tax.
You can find out more about the senator here.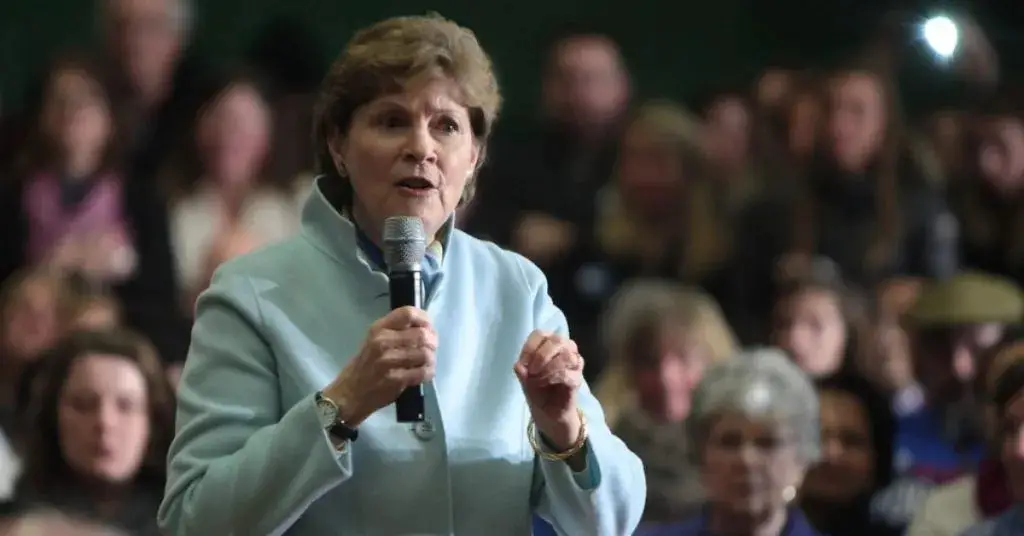 Here's our collection of the best Jeanne Shaheen Quotes:
Jeanne Shaheen Quotes on Politics/Power
For me, getting young people engaged in politics and public service is really one of the most fun things that I get to do.

Jeanne Shaheen
Any Democratic statement of core beliefs about the importance of families must include all our families, gay and straight. Our party has a long tradition of leading the charge on important questions of justice.

Jeanne Shaheen
I think we need to get the measurements that Congress has mandated from the White House on how we're going to determine progress in Afghanistan.

Jeanne Shaheen
Voting rights shouldn't be a partisan issue. 

Jeanne Shaheen
Diplomacy & close coordination with our transatlantic allies are the best way to combat Russian aggression.

Jeanne Shaheen
We need to get young people excited about politics, excited about government.

Jeanne Shaheen
When I got involved in politics and started running, there were questions about whether a woman could take care of her kids and serve in office. And that was never an issue when I ran.

Jeanne Shaheen
The United States does not accept foreign meddling in our elections, and we shouldn't have an ambassador attempting to intrude in another country's political affairs.

Jeanne Shaheen
We know that over a billion people live in poverty around the world, and most of them are women and girls. If we can improve their lives, that has a positive effect on their communities, on their families, on their countries.

Jeanne Shaheen
I think everybody in Washington could use a curfew, to be honest.

Jeanne Shaheen
Jeanne Shaheen Quotes on Tax/Economy
We need to strike better trade deals, but we need to do it in a way that ensures that we are at the table on these deals.

Jeanne Shaheen
Let's create jobs by bringing the Shaheen-Portman bipartisan energy efficiency bill to the floor.

Jeanne Shaheen
Low-wage jobs have gone offshore. We need to innovate to stay competitive.

Jeanne Shaheen
The U.S.-E.U. partnership is indispensable to ensuring a Europe whole, free, and at peace.

Jeanne Shaheen
Jeanne Shaheen Quotes on Health/Climate
We know that the way to decrease unplanned pregnancies and abortions is to make birth control and family planning services accessible and affordable, not micromanage the type of medical information and reproductive health counseling that women around the world receive.

Jeanne Shaheen
The economic impact of the pandemic has reached every corner of the country for 2 years now. Omicron is dealing the same brutal blow that we first saw in 2020.

Jeanne Shaheen
Vaccines aren't just to protect you. They are to protect those who aren't eligible to be vaccinated: young children.

Jeanne Shaheen
New England is warming faster than the global average. Warming temperatures not only threaten our ecosystems, but also our livelihoods and culture as Granite Staters.

Jeanne Shaheen
COVID worsened the mental health crisis facing Granite Staters of all ages.

Jeanne Shaheen
From rising tides, to superstorms, to unseasonal weather impacting our wildlife, foliage & seasonal businesses: there is no denying that we are feeling the effects of climate change.

Jeanne Shaheen
Jeanne Shaheen Quotes on Equality/Society
Religion and morality are critical to how students think about politics and form opinions on political issues.

Jeanne Shaheen
There's definitely a world view among college students that appreciates the need to act in the international community.

Jeanne Shaheen
I think there are a lot of Republicans who recognize that investment in adolescent girls and empowering them is good for our foreign policy. When they're educated, they tend to give back more to their communities, to rise out of poverty in a way that is good for their families and their communities and, ultimately, their countries.

Jeanne Shaheen
For some students, school meals are the most reliable source of nutrition they get each day. As we combat food insecurity, ensuring schools have the resources to provide meals is crucial.

Jeanne Shaheen
If we really care about impacting countries around the world and their economic futures, then what we need to do is empower women.

Jeanne Shaheen
Jeanne Shaheen Quotes on Foreign Affairs
If a future U.S. president were to refuse to defend an ally under attack, NATO would lose all credibility.

Jeanne Shaheen
I think we need to continue to engage with our allies and with the world situation both on trade. I'm concerned that by pulling out of TPP, while we all want fair and competitive trade, the fact is what we have done is left the playing field to the Chinese to engage with those partners.

Jeanne Shaheen
Economic sanctions are one of the most effective tools we have to deter Putin from invading Ukraine.

Jeanne Shaheen
By protecting our Afghan friends from reprisals and welcoming them into our American family, we can assert that the United States is still a great and good country – and that we do not abandon those who risked their lives to serve with us.

Jeanne Shaheen
I'll stand with President Bush on national security, the war on terrorism and to disarm Saddam Hussein. U.S. Senate Debate, October 2002

Jeanne Shaheen
We need legislation that addresses the political situation we face today in response to increasing Russian aggression – not last year or two years ago. The dynamics changed and so must our strategy. 

Jeanne Shaheen
Democrats and Republicans must remain united on the urgent need to support Ukraine in defense of its sovereignty and pro-democratic aspirations.

Jeanne Shaheen
I appreciate your concerns, and we have to be cautious and deliberate; however, I do agree with President Bush that Saddam has got to go. He poses too much of a threat. – College Democrats root for Shaheen, Portsmouth Herald, 15 September 2002

Jeanne Shaheen
Americans were outraged by Russia's interference in our presidential election, but a wider threat is Russia's doctrine of hybrid warfare, which includes cybersabotage of critical American infrastructure from nuclear plants to electrical grids.

Jeanne Shaheen
Looking forward to sharing feedback with lawmakers so we can swiftly get to work on a path forward in Congress to respond to the political situation in Ukraine and Eastern Europe that safeguards Ukraine's territorial integrity, Europe's energy security & stability of the region.

Jeanne Shaheen
NATO is indispensable to America's national security.

Jeanne Shaheen
One of the things we need to do with North Korea, which is a rogue nation, is to get the international community in support of further sanctions, of keeping pressure on the North Korean regime.

Jeanne Shaheen
The political crisis in Kazakhstan is deeply concerning & the violence against protestors by the government must cease immediately.

Jeanne Shaheen
Jeanne Shaheen Quotes on Rights/Justice/Constitution
Martin Luther King Jr. was a fierce defender of justice whose legacy endures across our nation today.

Jeanne Shaheen
Surging energy costs make it harder for low-income & vulnerable families to keep the heat on as winter approaches.

Jeanne Shaheen
I'm particularly concerned by reports of the use of force against journalists. This cannot be tolerated: independent journalists play an important role in society and must be protected.

Jeanne Shaheen
Other Jeanne Shaheen Quotes
We're only going to be able to compete in the world if we continue to be innovative.

Jeanne Shaheen
The Granite State is proudly home to some of the best skiing in the nation. Great to see Jackson make the list of top skiing destinations – complete with covered bridges and scenic views!

Jeanne Shaheen
Summary
I hope you have enjoyed our collection of some of the best Jeanne Shaheen Quotes! 
Don't forget to share them on social media with your friends and family.
As a reminder, you can contact the senator here.
Stay strong!
---
Similar Content