Many individuals face the challenge of needing new clothes but lacking the funds for a shopping spree. A surprising revelation is that some churches generously offer free clothing to those in need.
This philanthropic gesture from churches serves as a lifeline for low-income families and individuals. It empowers them to make their limited budget go further, enabling them to allocate resources to essentials like rent and food, rather than spending it on clothing.
This article is a great resource for finding local churches and other organizations that offer free or low-cost clothing. It will provide a thorough overview of where to go for these tools.
Local Churches that Give Away Free Clothes
These churches operate numerous branches throughout the United States, serving a significant portion of their local counties. Anyone interested can visit any of these branches to inquire about obtaining free clothing.
When individuals are on the hunt for free clothing in their local area, The Salvation Army emerges as a top choice. This renowned organization boasts a widespread presence across the nation, reaching out to individuals from various walks of life who are facing challenging circumstances.
The Salvation Army doesn't stop at offering free clothing alone; they also manage thrift stores and donation centers. Here, gently used clothing is available at affordable prices, making it accessible to those with tight budgets. 
This compassionate organization goes the extra mile by assisting food pantries, shelters, and an array of other programs. Furthermore, they extend their support to struggling families by offering essential furnishings and hotel gift cards. 
The distinguishing feature of The Salvation Army is its commitment to giving that transcends material aid. In addition to tangible support, they provide emotional and spiritual guidance to the people they assist.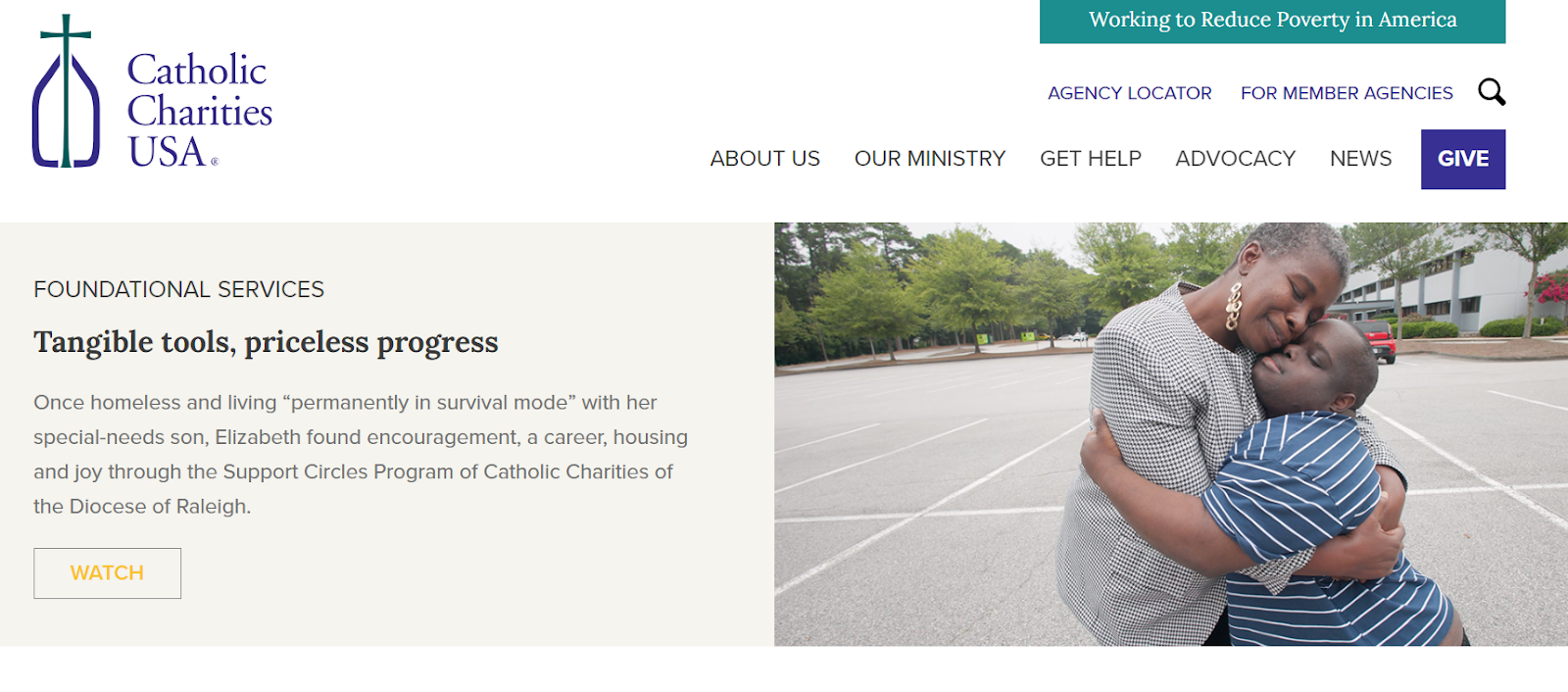 Based in Alexandria, Virginia, Catholic Charities has tirelessly worked to combat poverty since 1910. This reputable organization is dedicated to offering essential support services, including disaster relief, promoting Catholic leadership, supplying affordable housing, distributing food, and, of course, providing free clothing.
Depending on the specific site, Catholic Charities offers free, gently used clothing to individuals who schedule an appointment or provide a financial assistance voucher. This clothing includes a range of items, such as free T-shirts, pants, hats, gloves, jackets, and various accessories.
Furthermore, some locations go beyond clothing and extend their generosity by offering non-clothing essentials like kitchen supplies, laundry detergent, and soap. This extra support ensures that those in need receive not only clothing but also the necessary items for daily life.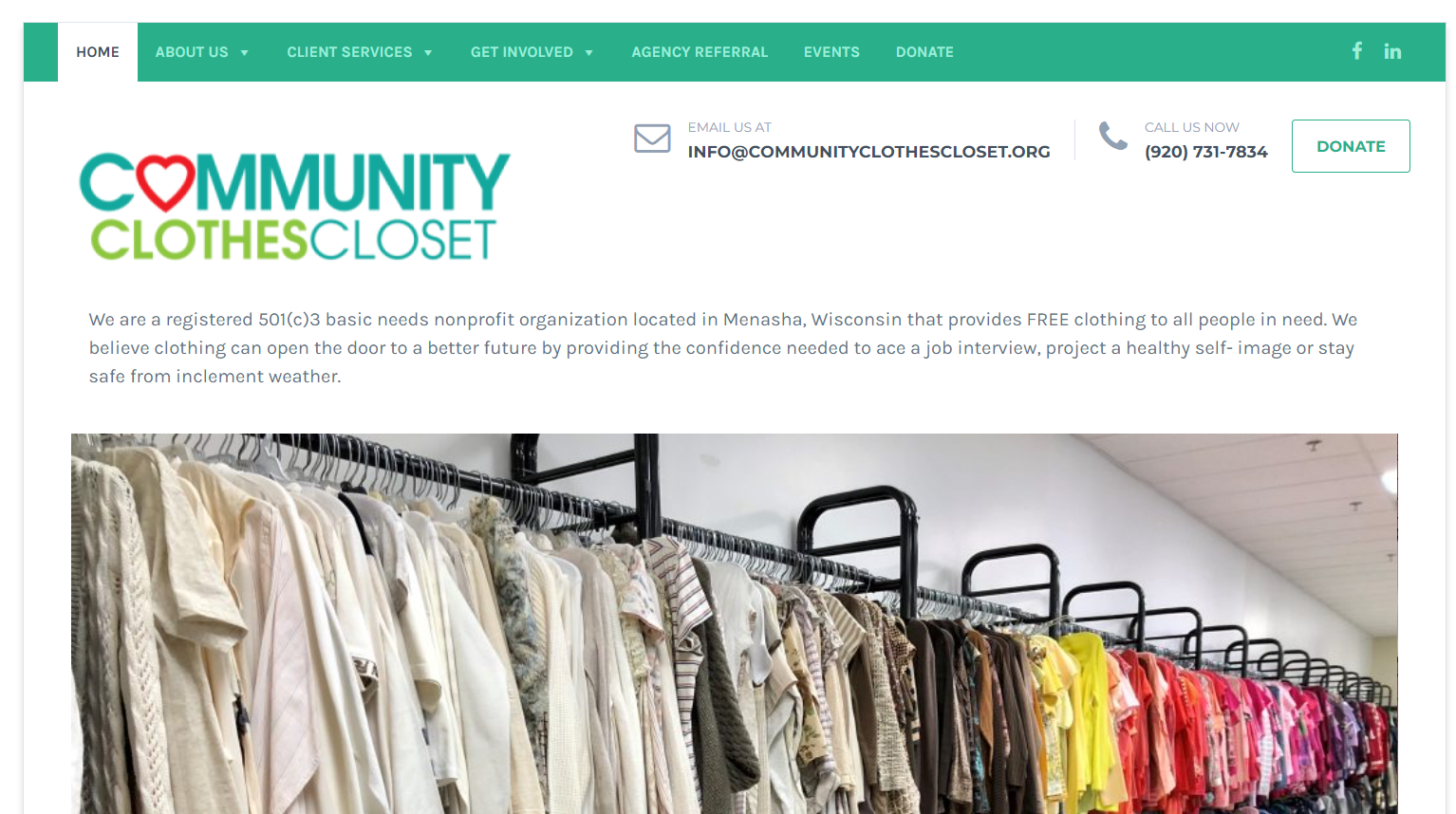 The Community Clothes Closet operates in Winnebago County, Wisconsin, and caters to individuals and families in need. They have established collaborations with more than 60 local non-profit groups to connect those in need with their valuable services.
When you visit community clothing outlets,  you'll discover a wide range of free items, including shoes, bed linens, and clothing suitable for people of all ages. They are open for shopping on Mondays, Tuesdays, and Thursdays, making it convenient for the community to access their essential offerings.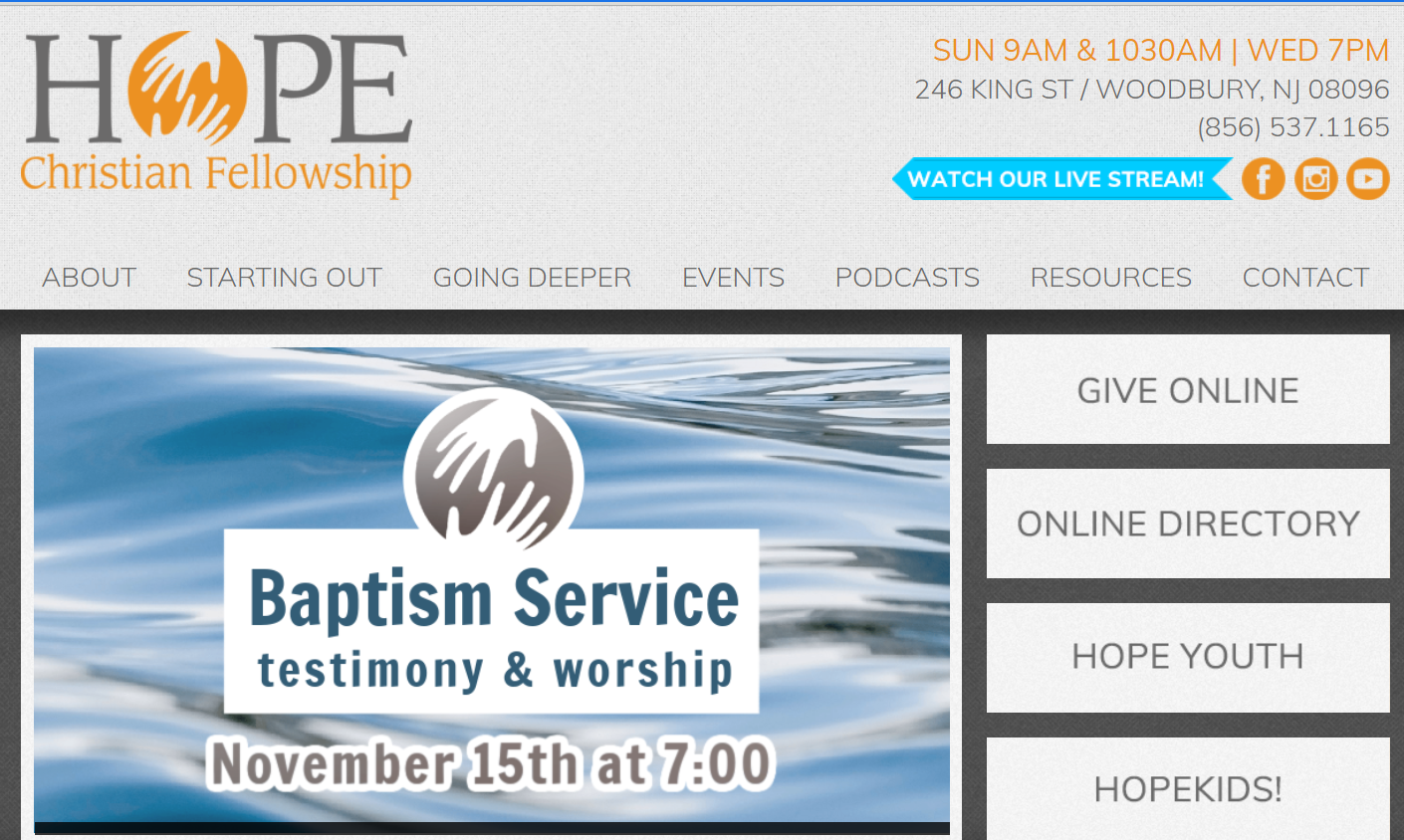 Hope Christian Fellowship annually hosts a Clothing Giveaway event in October, taking place on a designated Saturday each year. Attendees have the fantastic opportunity to acquire various items completely free of charge, including suits, winter clothing, dresses, shoes, baby essentials, and a wide array of other items.
As a bonus, the event also provides a complimentary hot breakfast. This means that visitors can not only enjoy a hearty meal but also shop for clothing without spending a dime, making it a truly convenient and generous occasion.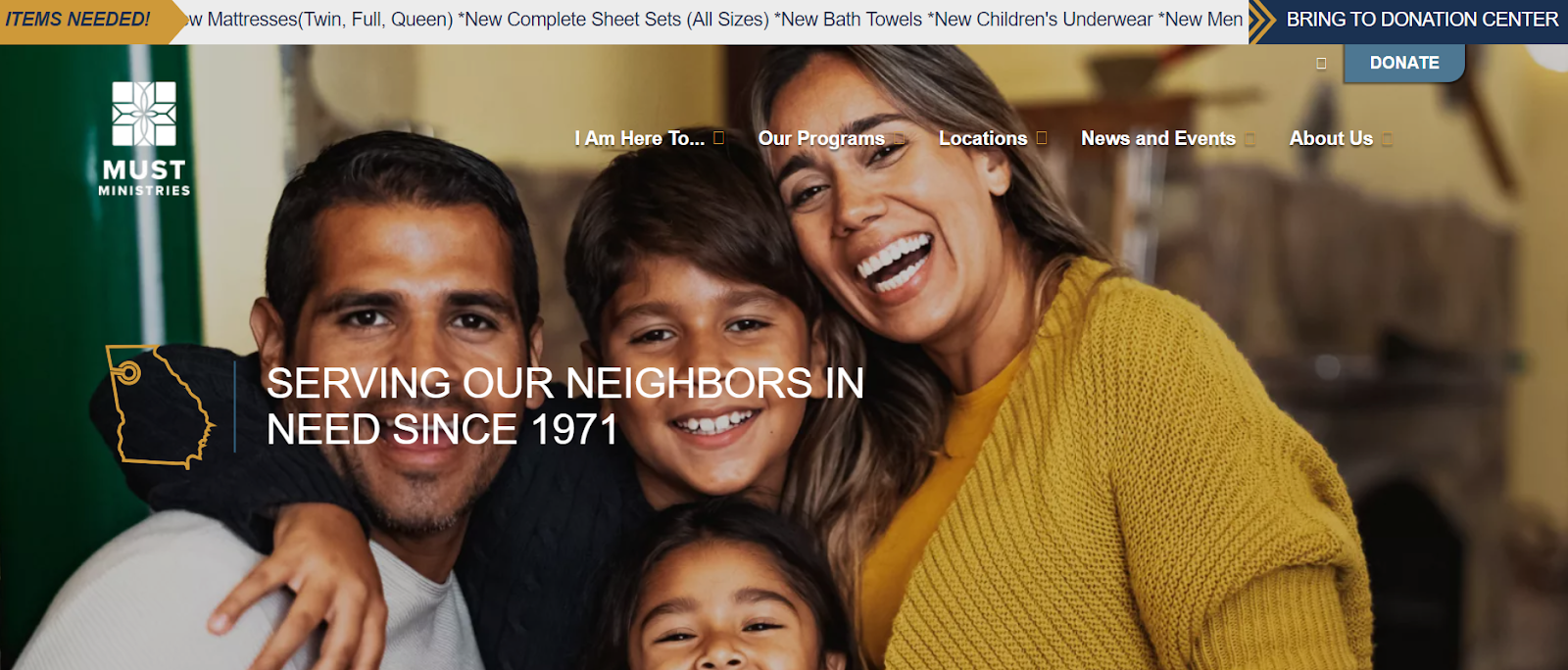 If someone lives in the counties around Georgia, such as Cherokee and Cobb, they can visit Must Ministries to get free clothing and more.
Must Ministries provides various clothing items like shoes, underwear, coats, and work clothes. Additionally, they offer services like food assistance, emergency shelter for the homeless, help with rental costs, and employment services.
People who are interested in receiving free clothing or other assistance from Must Ministries should contact the organization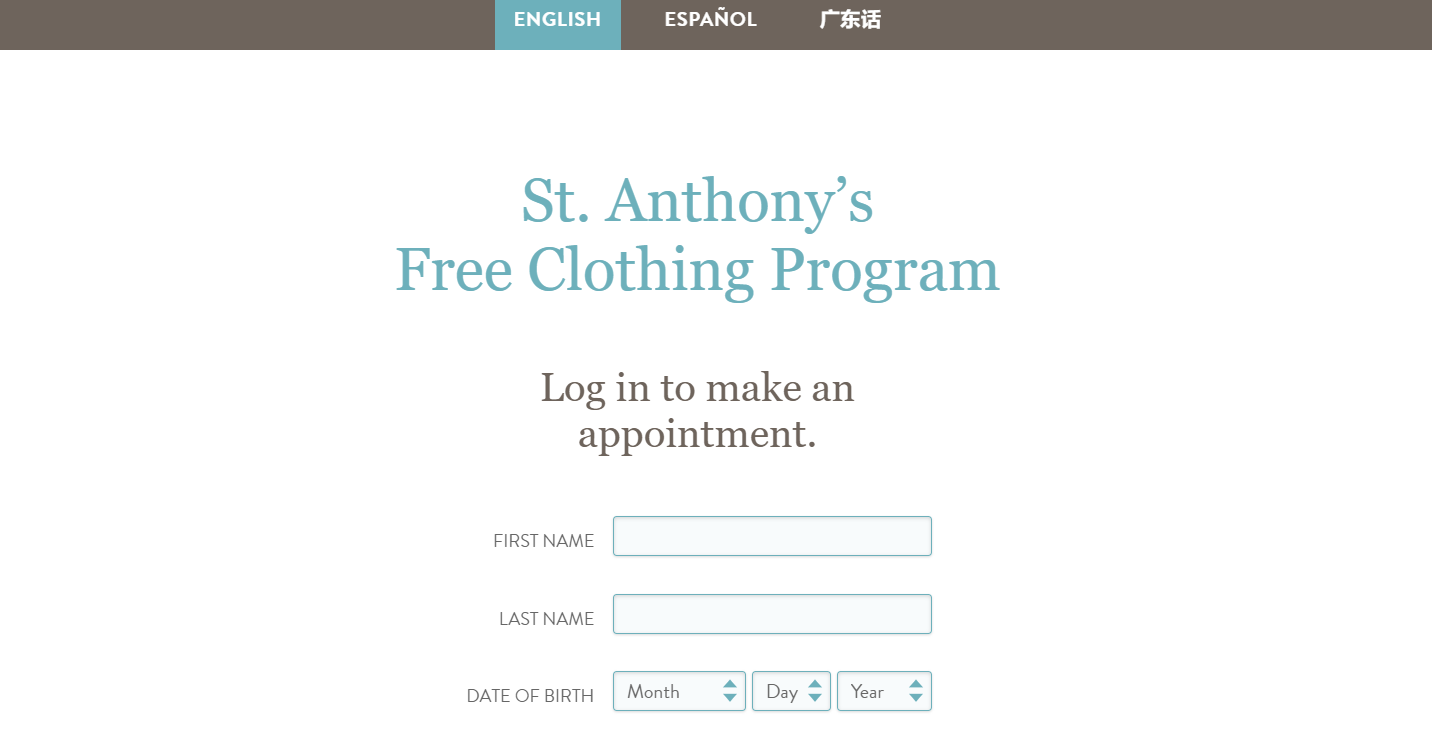 Saint Anthony's started as a place that provided free sandwiches to those in need over seven decades ago. Today, it has grown into a remarkable institution with a rich history. It boasts not only its renowned dining room but also offers essential services such as a medical clinic, addiction recovery support, community safety services, and an invaluable free clothing program.
Saint Anthony's Free Clothing Program is a lifeline for individuals and families, especially those with children or other dependents. Free clothing distribution occurs once each month for individuals and every other month for families. 
Take advantage of this generous offer by scheduling a visit to the store in advance by calling ahead. It's more evidence that St. Anthony has always cared deeply about helping the poor.

The United Methodist Church is a vibrant and expanding community of more than 12 million people in the Americas, Europe, Africa, and Asia. Many of the diverse congregations that make up this network regularly give out food and clothing to those in need. To find a local United Methodist Church, check out their "Find a Church" page.
Many individuals facing financial hardships often find it challenging to provide clothing for their families. If someone is in such a situation, they are warmly invited to explore the assistance offered by the St. Vincent De Paul charity. 
This charity runs a resale shop specifically for the benefit of people with low incomes and the homeless. A quick Google search for "St. Vincent de Paul thrift stores" may help you locate the nearest one. 
Alternatively, you can visit the website "ssvpusa.org/assistance-services" for a quick and convenient way to locate these thrift stores. Furthermore, St. Vincent De Paul can offer valuable advice on dressing appropriately for various occasions, ensuring you choose the right clothing that suits your needs.
Eligibility To Receive Clothing From Churches Near Me
In the world of free clothing assistance provided by churches, there aren't any strict rules one must meet to receive help. However, these benevolent institutions extend their support to the neediest and most vulnerable members of society by offering modest clothing.
Apart from government contributions, churches also receive donations from non-governmental organizations. Additionally, many generous individuals contribute personally to their local churches, all to aid struggling families.
This outreach program primarily targets individuals who face difficulties in affording new clothing from the market. To be eligible for financial assistance, both the applicant's and their parent's household income and assets must fall below the state's poverty guidelines.
The church provides aid to people of all ages and stages of life, including those who are homeless. There are no strict qualifications for participation, therefore being a student is not a prerequisite. 
Steps To Get Free Clothes From A Nearby Church 
Many churches offer assistance to individuals with low incomes who need clothing for their families. A variety of churches hold clothing giveaways throughout the year, and these events are often open to anyone in need, without requiring financial contributions.
These church-hosted clothing giveaways provide an excellent opportunity for people to acquire new clothes without any cost. For instance, St. Andrew's Church is a great example, as it conducts a clothing giveaway every Wednesday during its weekly service. 
]To make these giveaways possible, they typically request clothing donations from the community. This collective effort ensures that less fortunate families can adequately dress their children and other family members. Additionally, many black churches come together every month to organize clothing giveaways.
Alternative Ways To Get Free Clothes 
In the vicinity, one can find various organizations that generously provide free clothing to those in need. These organizations have their unique methods of distributing garments, which might be well-known to some. Apart from churches provide free food, there are other non-profit groups worth considering when seeking free clothing. Below, we present a list of alternative options that could serve as excellent choices.
Goodwill
Goodwill, the affordable clothing chain, caters to a diverse customer base. Through the Goodwill Excel program, the organization extends its support by offering free clothing to individuals and families facing financial constraints. 
To locate a nearby Goodwill store, interested individuals can conveniently visit their website and use the zip code locator tool. This enables them to easily find the nearest Goodwill store in their area. 
Corazon Community Services
Corazon Community Services goes beyond just offering food and clothing; they also extend a helping hand to individuals in need. Anyone looking for their nearest Corazon location can easily find it using the zip code locator available on their website. 
Hope's Closet
Hope's Closet, in its noble mission to aid low-income families, offers complimentary clothing to families throughout the United States and Canada. You can easily locate their nearest branch by using the zip code finder available on their website. This convenient tool helps individuals find Hope's Closet locations in their vicinity. 
Conclusion
Obtaining new clothing can pose a challenge for individuals on a limited budget. However, there are numerous alternatives to explore, ensuring that one can acquire the necessary attire without straining their finances.
One can tap into various resources, such as prominent places of worship, active Facebook communities, and clothing exchange events, to discover cost-effective or even free clothing options. Moreover, the practice of upcycling gently-used garments offers a convenient way to fashion distinctive and stylish outfits.
For those in search of clothing without any financial burden, considering the churches highlighted in this article is a wise choice. If, however, none of these places of worship have a presence near your location, there are alternative avenues to explore.
FAQ 
What other services that churches may offer alongside free clothes?
Those in need can get free clothing from several churches. They provide financial aid in the form of rent, food, and clothing to those in need. There are also free food and Christmas gifts to be had, so don't miss out on those.
I would like to donate some of my used clothing. Where will I go?
Food pantries, homeless shelters, and thrift shops get gently used clothing from churches. Contact your chosen organization using the linked links or a search engine.
Are free giveaway clothes from church good quality?
The quality of charity-made clothing is frequently questioned. These communities frequently give away their used clothing. Donated items tend to be in good condition. Those who need and wear them typically receive them for free.