Looking for tips to access the Wyoming Unemployment Insurance Benefits? 
In this article, we will make Unemployment Insurance Benefits easy to understand with Wyoming Unemployment phone numbers and other contact information.
We understand.
The experience of unemployment is often fraught with anxiety and feelings of worthlessness. Not being able to provide for oneself and one's family can be very difficult, and the stress of the situation can be overwhelming. 
Those who are unemployed may feel like they are a burden to their loved ones, and they may feel like they are not good enough or valuable enough. It is important to remember that you are not alone in this experience, and there are people who care about you and want to help. 
You are valuable, even if you are not working at the moment. There are many resources available to you, so please do not hesitate to reach out for help.
Why did we create the Wyoming Unemployment Insurance Benefits Guide?
Government websites can be difficult to navigate for a lot of people. They may be confusing or hard to use, and they may not have all the information people need. This can be frustrating and overwhelming, especially for people who are already struggling. 
Having said that, please use our guide as support but NOT the official guide. You will NEED to contact the official unemployment government staff and fight for your own benefits. You can do this.
Who's in charge of Wyoming Unemployment Insurance Benefits?
Workforce Standards, Policy and Communications, and Workforce Programs are the three main sections of the Wyoming Department of Workforce Services (DWS).
For unemployment-related difficulties, you can contact the Workforce Programs Division.
Below is what its official website looks like.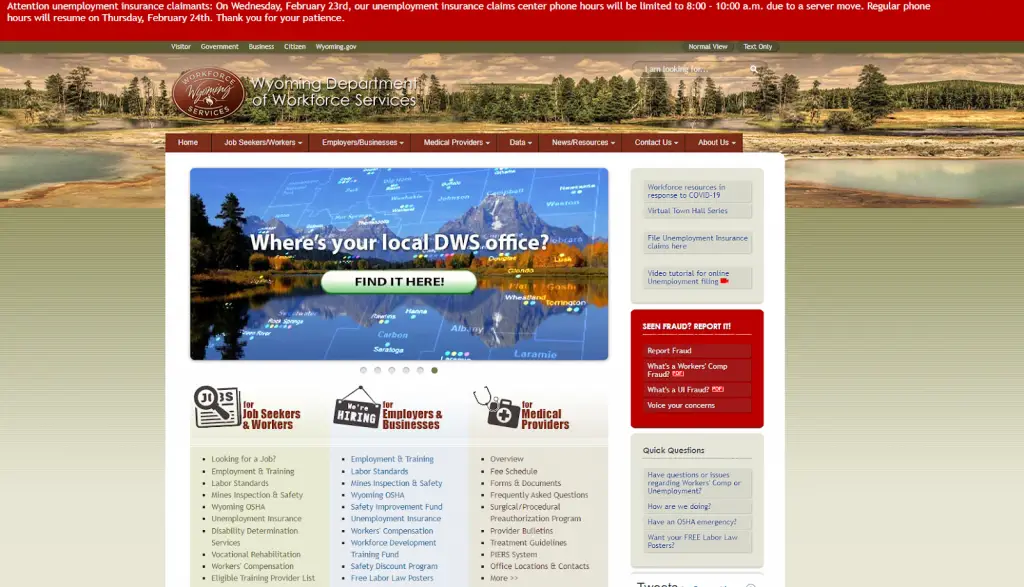 Wyoming Unemployment Contact 
CASPER
Main Office
Send mail to this address: P.O. Box 2760, Casper, WY 82602-2760
(307) 235-3264 HELP Line
(307) 473-3789 Claims Center (For information on your UI Claim)
(307) 235-3277 Fax
(307) 473-3726 Fax
Unemployment Tax Division
(307) 235-3217 (For information on your UI Account)
(307) 235-3278 Fax
Benefit Payment Control
Send mail to this address: P.O. Box 2760, Casper, WY 82602-2760
(307) 235-3236
(307) 235-3277 Fax
CODY
Field Office
1026 Blackburn Ave., Cody, WY 82414Map
(307) 587-8247 Fax
GILLETTE
Field Office
551 Running W Drive, #100, Gillette, WY 82718Map
RIVERTON
Field Office
422 East Fremont Ave., Riverton, WY 82501Map
(307) 473-3789 Claims Center (For information on your UI Claim)
ROCK SPRINGS
Field Office
2451 Foothill Blvd., #101, Rock Springs, WY 82901Map
---
How To Qualify for Wyoming Unemployment Benefits
Unemployment benefits are available to anybody who is jobless for a period of time, either partially or entirely. 
Claimants must demonstrate that they are jobless due to no fault of their own, that they are actively seeking for employment and are willing and able to work, and that they have earned an acceptable amount of pay credits from past labor in order to be eligible for UI benefits in Wyoming.
How Much Unemployment Benefits Will I Get in Wyoming? 
Base Period: First 4 of the last 5 completed quarters
Alt Base Period: Last 4 completed quarters
Duration of Benefits: 11-26 weeks
Weekly Payment: Min $38 to Max $526
Maximum Benefits Amount (1 year): $13,208
How Do I Apply for Wyoming Unemployment Benefits?
Workers in Wyoming can file an unemployment insurance claim online through the Wyoming Unemployment Insurance System's website. Applicants can easily create an account and use the online form to submit their UI benefit claims.
Residents of Wyoming can also make claims by phoning the Wyoming Claims Center at 307-473-3789. Claimants who live outside of Wyoming can contact 866-729-7799 to file a UI claim over the phone or apply online.
When filing an unemployment claim, you'll need the following information:
Name, address, and phone number for your most recent employer
Date of the last day you worked
For any work completed outside of Wyoming over the previous 18 months, contact information and dates for those employers and periods of work
Your Social Security number
How do I Manage My Wyoming Unemployment Benefits
Once you've been authorized for benefits, you'll get them on a weekly basis until you either return to work or run out of options. Every week, you'll need to recertify, which you may do online, over the phone, or by mail. If you opt to send your papers, you will get a pay order document every two weeks.
You may designate the days for which you should get weekly benefits on this page and mail or fax it to Wyoming Department of Workforce Services, Unemployment Insurance Division, P.O. Box 2468, Casper, Wyoming, 82601 or 307-473-3726. Claims must be submitted by the Friday following the pay order's week-ending date.
In Wyoming, unemployment benefits are distributed through a ReliaCard prepaid debit card offered by US Bank. Your weekly rewards will be placed into this card, which you may use just like any other debit card.
You can manage your payment method through your WYUI online account if you wish to have your benefits paid straight into your bank account.
How Do I Appeal a Wyoming Unemployment Decision?
You have the right to file an appeal if your unemployment claim is refused. In Wyoming, you can do so by sending a signed declaration indicating you disagree with the decision to the Unemployment Insurance Appeals Division at the address or fax number indicated on your decision letter, or by using the online appeal form on the WYUI website.
You can also hand-deliver your appeal statement to any Wyoming Workforce Center. Your refusal letter will offer detailed directions for submitting an appeal.
The decision of your appeal may result in a hearing, which is the time for you to substantiate your claim with additional testimony and evidence. You may also invite witnesses to testify on your behalf. 
A hearing officer will deliver a decision after the hearing, and if you wish to appeal, you may appeal to the Unemployment Insurance Commission within 28 days.
How Do I Report a Wyoming Unemployment Fraud?
Making any false statement or misrepresentation of facts in order to collect or raise the amount of unemployment benefit is considered fraud. Any applicant who gets benefits in a false manner is required to refund the benefits, as well as pay a penalty. 
Applicants who submit false information will be barred from obtaining any future unemployment benefits. There's also the possibility of getting charged with fraud.
Any of the three procedures listed below can be used to report suspected unemployment fraud:
Call the General Fraud Hotline at 888-996-9226
Complete the form on the Wyoming Workforce website at http://doe.state.wy.us/uifraudreporting/
Print out, complete, and mail or deliver the fraud reporting form to the Wyoming Department of Workforce Services, Unemployment Insurance Division – BPC, PO Box 2760, Casper, Wyoming, 82602-2760
How Do I Talk to a Person in Wyoming Unemployment Customer Service?
Steps:
Dial 1-307-473-3789
Stay on the line
The automated phone system will connect you to a live customer service agent from Wyoming Unemployment
Wyoming Unemployment Customer Service Representatives Hours
Live Wyoming Unemployment Insurance customer service is available from 8am to 4pm Monday, Tuesday, Thursday, and Friday, from 8am to 12pm (noon) Wednesday, Saturday-Sunday closed.
Wyoming Unemployment Support Phone Numbers
Wyoming Unemployment Support Phone Number: 1-307-473-3789 or 1-866-729-7799 (if calling from outside of Wyoming). Live Wyoming Unemployment Insurance customer service is available from 8am to 4pm Monday, Tuesday, Thursday, and Friday, from 8am to 12pm (noon) Wednesday, Saturday-Sunday closed.
Unemployment Insurance Appeals: 1-307-235-3246. Live customer service representatives from Wyoming Unemployment Insurance are available from 8am to 5pm Monday-Friday, Saturday-Sunday closed.
Unemployment Tax Division: 1-307-235-3217.
Benefit Payment Control: 1-307-235-3236.
Wyoming Unemployment Fax Number
Claims Center: 1-307-473-3726.
Unemployment Tax Division: 1-307-235-3278.
Benefit Payment Control: 1-307-235-3277
What if I got fired?
You may be disqualified for benefits if the employer can prove you were discharged for work-related misconduct. An employer must prove misconduct before you are eligible for benefits.
What if I quit?
In general, you are not eligible if you leave your work freely.
If you quit for "good cause," though, you may be able to collect. The state unemployment office determines what constitutes good reason, and you can make your case for getting benefits.
You should be entitled to a hearing if your claim is denied so that you can explain your claim. You should contact your local office because regulations and conditions differ from state to state.
---
Similar Content
---
Wyoming Unemployment Phone Number and Office Locations
| | | |
| --- | --- | --- |
| Wyoming Unemployment  Office | Wyoming Unemployment Office Locations | Wyoming Unemployment Phone Number |
| Afton Workforce Services | 350 South Washington Suite 5Afton, WY 83110 | 307-886-9260 |
| Casper Unemployment Office | 851 Werner Court Suite 120Casper, WY 82601 | 307-234-4591 |
| Cheyenne Unemployment Office | 5221 Yellowstone RoadWest EntranceCheyenne, WY 82002 | 307-777-3700 |
| Cody Unemployment Office | 1026 Blackburn Avenue Suite 1Cody, WY 82414 | 307-587-4241 |
| Kemmerer Unemployment Office | 20 Adaville RoadPO Box 217Diamondville, WY 83116 | 307-877-5501 |
| Douglas Unemployment Office | 311 North Russell Ave Suite BDouglas, WY 82633 | 307-358-2147 |
| Evanston Unemployment Office | 98 Independence DriveEvanston, WY 82930 | 307-789-9802 |
| Gillette Unemployment Office | 551 Running W Drive Suite 100Gillette, WY 82718 | 307-682-9313 |
| Jackson Unemployment Office | 155 West Gill AvenuePO Box 1003Jackson, WY 83001 | 307-733-4091 |
| Lander Unemployment Office | 1295 12th StreetLander, WY 82520 | 307-335-9224 |
| Laramie Unemployment Office | 3817 Beech St Suite 100Laramie, WY 82070 | 307-742-2153 |
| Newcastle Unemployment Office | 22922 HWY 85Newcastle, WY 82701 | 307-746-9690 |
| Powell Unemployment Office | North Cheyenne StreetPowell, WY 82435 | 307-754-6436 |
| Rawlins Unemployment Office | 1703 Edinburgh StRawlins, WY 82301 | 307-324-3485 |
| Riverton Unemployment Office | 422 East FremontPO Box 1610Riverton, WY 82501 | 307-856-9231 |
| Rock Springs Unemployment Office | 2451 Foothill Blvd Suite 100Rock Springs, WY 82901 | 307-382-2747 |
| Sheridan Unemployment Office | 247 Grinnell Plaza Suite 200Sheridan, WY 82801 | 307-672-9775 |
| Torrington Unemployment Office | 1610 East M StreetTorrington, WY 82240 | 307-532-4171 |
| Wheatland Unemployment Office | 1958 W. Mariposa ParkwayWheatland, WY 82201 | 307-322-4741 |
| Worland Unemployment Office | 1200 Culbertson Street Suite FWorland, WY 82401 | 307-347-8173 |
Final Thoughts
We hope the above info has been helpful to you. 
We do not make any financial advice but below are some of our thoughts that could help you stand on your feet sooner than later.
Don't feel shame about needing help, but also don't feel entitled. 
Don't beat yourself up – things happen. The sooner you accept it and move on, the better.
Don't burn the bridge. Work with your employer to help yourself. 

1) Check if you are entitled to severance pay, vacation or sick pay, 
2) Ask about extending health insurance benefits, 
3) Ask about outplacement resources, 
4) Request a reference letter from your employer 

Review your financial positions, obligations. 
Make a weekly or monthly budget. Buy what you need, so you don't have to sell what you need.
Watch out for credit card loans – they will eat you alive.
Make an action plan with at least 3 scenarios from best to worst and examine your options.
examine your options.
---
Related Content: