Steven David Daines is a U.S Senator from Montana. He has worked as a corporate executive in Procter & Gamble and RightNow Technologies.  He is a famous American businessman and Republican politician.
He won his Senate Seat from Montana and entered the upper chamber of the United States Congress in 2014.
He has worked as the Junior United States Senator for Montana for 3 years. Daines won the reelection of Senate in 2020 by defeating his republican counterpart.
He was born on August 20, 1962, in Van Nuys, Los Angeles, California. In 1964, his parents Sharon R. and Clair W. Daines moved to Montana.
He switched his professional career to only politics. Daines got his early education and graduation from Bozeman High School. He graduated from Montana State University as a Chemical Engineer.
Daines was into politics from his early educational career. He was the student body president during his graduate studies at Bozeman High School. Daines got a B.S Degree in Chemical Engineering from the State University of Montana.
After completion of his studies, Daines stepped into his professional career. He has worked for around 13 years in top private organizations. In 2012, Daines left his job and focused his full attention on a new political career.
Steven Daines was into politics from the days of high school. He was the representative of students as President of Montana State University. He has worked as a private employee for 25 years.
Daines first represented Montana as the delegate at the Republican National Convention. He has also served as the state chairman of Mike Huckabee's presidential campaign of 2007-08. He took part in the 2008 gubernatorial election for lieutenant governor of Montana.
He was defeated by Democratic Governor Brian Schweitzer. He also took part in the 2012 elections for the U.S House of Representatives. He won the elections by beating his opponent Kim Gillan.
In 2014, Daines won the General Elections by defeating Amanda Curtis to become a United States Senator from Montana. In 2020, he beat the democratic nominee Steve Bullock in the reelections by securing 55% of the vote.
Sen. Daines championed legislation to expand responsible development of Montana's energy resources. Also, move forward meaningful forest management reform, increase transparency and accountability in government.
He passed the most significant public lands bill for Montana in over 30 years. He was ranked the most effective first-term House member in 2013 and again in 2014.
You can find out more about the senator here.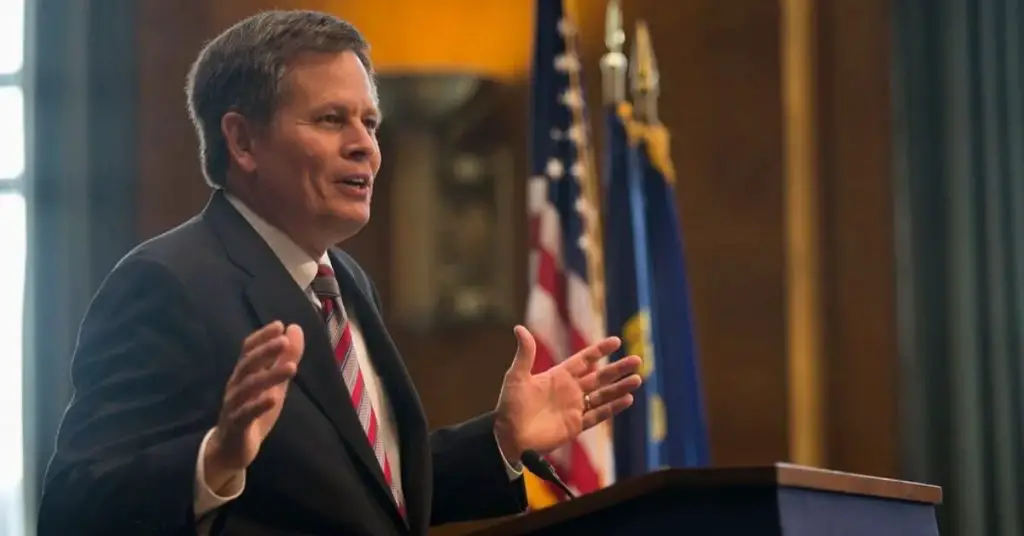 Here's our collection of the best Steve Daines Quotes:
Steve Daines Quotes on Politics/Power
There are huge opportunities to continue to improve efficiency in the way the government operates and improve the way government provides services to its citizens.

Steve Daines
I was a big fan of Ronald Reagan. He was the first president I got to vote for.

Steve Daines
I ran for Congress not because I was having a mid-life crisis. I left the private sector because I saw a looming financial crisis that was coming to this country. It's unsustainable.

Steve Daines
I had the chance to visit all 56 counties in Montana in my pickup. You can put Washington, D.C., in one corner of our state and put Chicago in the other corner, and that's the size of my congressional district.

Steve Daines
Under Trump & Republican leadership, we cut taxes that unleashed the economy, helped middle-class families & created jobs. The data proves it.

Steve Daines
The Democrats' "election reform" bill isn't about making our elections more secure—it's a far-Left power grab & it must be stopped.

Steve Daines
Twenty-eight years in business and you understand the importance of problem solving and the importance of efficiency, because if you don't become efficient, you don't run a business well, and you are out of business. And I think some of those principles could be applied to leadership in Washington.

Steve Daines
It's simple—U.S. citizens should be the only people voting in U.S. elections.

Steve Daines
It's an honor to serve Montanans in the United States Senate and work to address issues facing communities across our great state.

Steve Daines
I'm very proud that our country still produces people like my son, who choose the path less traveled; that knowingly step up to serve, even though our country is tearing itself apart with things like political machinations.

Steve Daines
Steve Daines Quotes on Tax/Economy
With skyrocketing inflation, the on-going southern border crisis & empty shelves across the country, this is no surprise. The American people deserve better.

Steve Daines
Inflation is a tax on all families.

Steve Daines
Montana ranchers must be able to compete on a level playing field. 

Steve Daines
We need to fully investigate allegations of price fixing and market manipulation, increase transparency in the cattle markets and hold big packers accountable — all things I'm working to get done.

Steve Daines
New analysis shows gas prices will continue to soar in 2022.

Steve Daines
This is outrageous. We should not be giving illegal immigrants who broke the law any taxpayer money.

Steve Daines
MT's grain growers are an essential part of our economy. Great sitting down with them to discuss reducing burdensome regs and leveling the playing field for MT ag.

Steve Daines
Inflation is a tax on ALL families, and those who can afford it the least, feel it the most.

Steve Daines
We cannot tax & spend our way into prosperity and economic growth. We need lower taxes, fewer regulations and more freedoms.

Steve Daines
Steve Daines Quotes on Equality/Society
You talk to the farmers, the ranchers, our small community bankers, and boy, one of the No. 1 issues is the regulations coming out of Washington.

Steve Daines
MT law enforcement & first responders put their lives on the line every day to protect our families and communities.

Steve Daines
For over a year, we've done everything we can to help small businesses keep their doors open and get folks get back to work.

Steve Daines
Hydropower provides good-paying jobs and safe, reliable & affordable energy to Montanans across the state—we need more of it.

Steve Daines
Montana small businesses bring our communities together, create good-paying jobs & make our main streets special.

Steve Daines
We have had a chance to travel to all 56 counties in this state, and I have had the chance to sit around with cups of coffee and having conversations about what matters to Montanans.

Steve Daines
Try telling Montana families they have to buy an electric vehicle just to afford getting around town.

Steve Daines
I've met so many people of my son's generation who think a sacrifice is when their satellite or Internet is out for a day and that the country owes them something. That old J.F.K. quote about 'what you can do for your country,' doesn't even seem to apply to so many people.

Steve Daines
Montana small businesses make our hometowns great.

Steve Daines
MT's health care heroes have been on the frontlines of the COVID-19 pandemic since the beginning.

Steve Daines
I had the interesting experience of having lived and worked for six years in China with Procter & Gamble, and that just changes, I think, your whole perspective in living overseas and living in a country like China.

Steve Daines
Steve Daines Quotes on Security
The brave men & women of law enforcement put their lives on the line every day to protect our families and communities.

Steve Daines
Border security IS national security.

Steve Daines
It was an honor to spend Veterans Day in Belgrade this morning with so many Montana heroes who bravely served our great nation.

Steve Daines
We need to finish building the wall and secure our southern border.

Steve Daines
We must do everything we can to defend not defund the brave men and women in law enforcement.

Steve Daines
Steve Daines Quotes on Rights/Justice/Constitution
One of our ancestors came over on the Mayflower, and we had family in Jamestown as well… I was raised where service was a part of the fabric of life. It wasn't one-upmanship. No one bragged about their medals, but you could see the look in the eyes, the tip of the hat. You served your country first, then you went to work and had a family.

Steve Daines
The right to life is the most fundamental, unalienable God-given right.

Steve Daines
There's dignity & hope in work—we should be doing all we can to support Americans with disabilities in the workforce, not treat them unfairly.

Steve Daines
The Geneva Consensus Declaration affirms the universal, unchanging principles of life, family & sovereignty.

Steve Daines
Other Steve Daines Quotes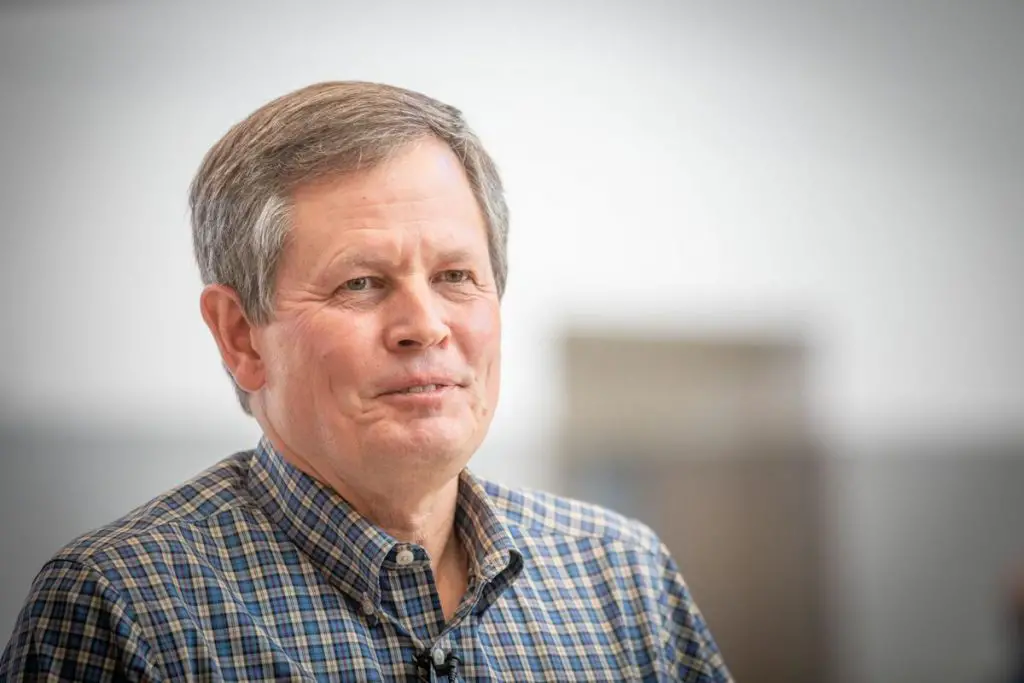 I grew up climbing mountains in Montana and Wyoming and my wife and I were engaged on top of a mountain peak: Hyalite Peak in Montana. It was a 15-mile hike to get to the top of that, round-trip – thankfully, she said yes.

Steve Daines
I'm proud to be pro-life.

Steve Daines
Summary
I hope you have enjoyed our collection of some of the best Steve Daines Quotes! 
Don't forget to share them on social media with your friends and family.
As a reminder, you can contact the senator here.
Stay strong!
---
Similar Content