Senator Jeffrey Alan Merkley is an American politician. He has been serving as a junior U.S. Senator from Oregon under the Democrats since 2009. He was a member of the Oregon House of Representatives from 1998 to 2009. 
Merkley was born in Myrtle Creek, Oregon, on October 24, 1956. But he grew up in Portland and finished high school at the David Douglas High School. In 1979, Merkley graduated with a B.A. in International Relations from Stanford University. After his Bachelor's degree, Merkley interned with Senator Mark Hatfield. He also interned with the Carnegie Endowment for International Peace. 
He furthered and received a Master's degree in Public Administration from Princeton University in 1992. After his Master's degree, he was selected as a fellow in the Office of the Secretary of Defence. 
After his fellowship, he worked as an analyst in the Congressional Budget Office. He returned to Portland in 1991. In Portland, he served as an executive director of the state's office of Habitat for Humanity till 1994.
Merkley started and founded many humanitarian programs. They include Walk for Humanity, Journey for Mankind, and YouthBuild. He also served as the Director of Housing Development. Finally, he served as the President of the World Affairs Council of Oregon. He is also a member of its Board of Trustees.
Senator Jeff Merkley Career
Merkley started his political career in 1998. Then, he won an election to the Oregon House of Representatives. He represented the 16th District in east Portland. In 2003, he became the leader of the Democratic minority of the House. Yet, he became the speaker of the House in 2006 and served till 2008.
Before the end of his tenure, Merkley received endorsements to represent Oregon at the U.S. Senate. He won the Democratic primaries and unseated the incumbent Senator to win his seat at the Senator. He resigned from the state's House and was sworn into office in 2009.
Senator Jeff Merkley Accomplishments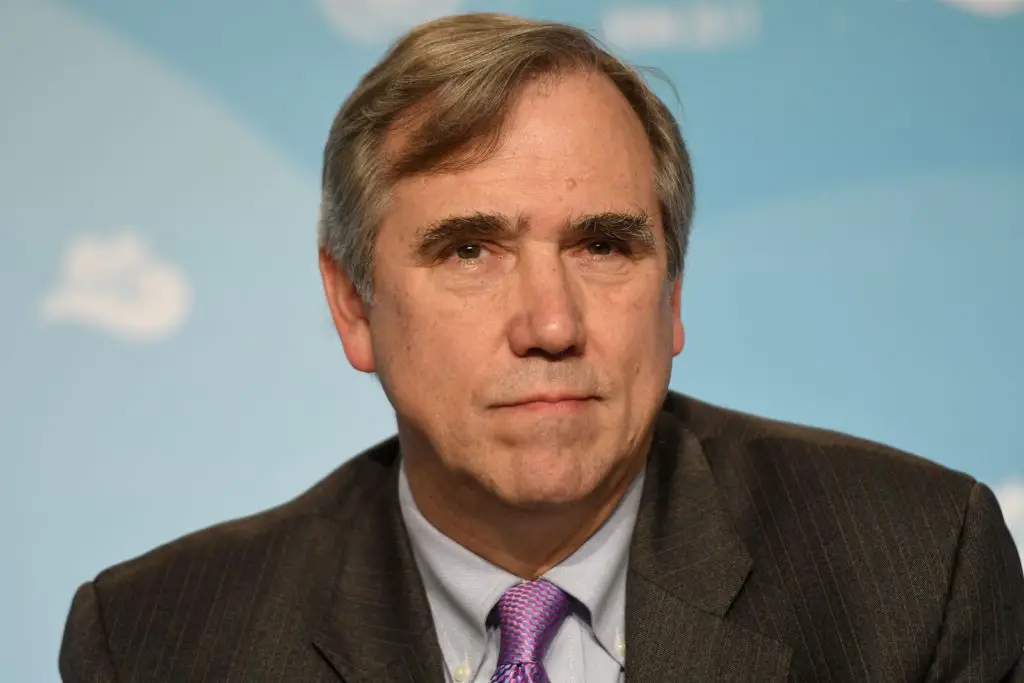 Jeff is also a key figure in the fast-developing infrastructural sector of Oregon. He was one of the Senators that sponsored the Made in America Act. The Act aimed at funding infrastructure projects. It will also ensure that equipment and materials for the projects are domestically made to boost the nation's economy.
Jeff is a member of a Senate Committee on infrastructural development. He has contributed to housing development in the state. He also saw to the speedy recovery of the housing market in the state. 
Jeff has also made the health care of his people one of the top priorities of his administration. He voted for the Patient Protection and Affordable Care Act. He was also a leading supporter of legislation for health care insurance. In 2019, Jeff and some Sensors introduced the Affordable Medication Act. The Act allowed for transparency of pharmaceutical companies.
Jeff has made a conscious effort towards eliminating climate change. His efforts toward environmental protection in the state are also commendable. He has earned praise for his several climate action bills and strategies. He has also worked towards promoting national security and effective foreign policies.
Senator Jeff Merkley Criticisms
Sen. Merkley got under fire for his alleged involvement in tax fraud. He allegedly squandered tax funds to target conservative groups. Also, the Republican uncovered his involvement in corruption scandals alongside six other Senators.
In 2016, Jeff got himself into a mess as a viral video of his bargaining with drugs circulated. During the period of the presidential campaign of Bernie Sanders, Jeff, being one of his supporters, was caught on camera with $70,000 in drug money. 
Under Federal law, Marijuana is a controlled substance with zero importance. In the footage, $70,000 was displayed on a table with the Oregon Rep and others, including Sen. Jeff.
Senator Jeff Merkley Net Worth
According to Incomepedia, Senator Jeff Merkley net worth is estimated at about $5.3 million.
Final Thoughts
Senator Jeff has made enormous legislative success while serving his people. The Oregonian Sensor has fought for a better life for his people. He has also fought to reform the waging system as well as improve the state's economy. 
But, Jeff got under fire for allegations of financial misconduct. He allegedly mismanaged tax funds. He was also caught in illegal drug dealing during his service in the Senate. Yet, none of the allegations affected his career.
References
---
Related Content: 
Similar Content
---